The Meme Maker allows you to create a unique meme from a video file, GIF, or picture. You can also crop the visual to meet the social media specs.
Add a file
Go to the Meme Maker tool.

To add your file, do one of the following:

Click Choose file to select a file from your device.
Drag and drop a file from a folder on your computer or laptop to the webpage.
Hover over the arrow to the right of the button to select a file from your Google Drive, Google Photos, or Dropbox.
To change a template, click the Or change template option and select the template of your choice.
Create a meme
Once the file is uploaded, you can add text to your meme and crop it, if necessary:
To add the text, under Enter your text or emojis, write the captions in the Top text and Bottom text fields to the right of the preview. Select the font and the alignment if needed.
To crop the image using one of the predefined aspect ratios, in the presets section to the right of the preview, select one of the options: 1:1, 16:9, 9:16, 5:4.

Depending on the chosen template, you may also have a field with two options in a drop-down list:

Keep Fit with border selected to fit the entire image without cropping within the template and add black bars if required.
Select Zoom & Crop to fill the entire template with an image without black bars, scale, and crop it if required.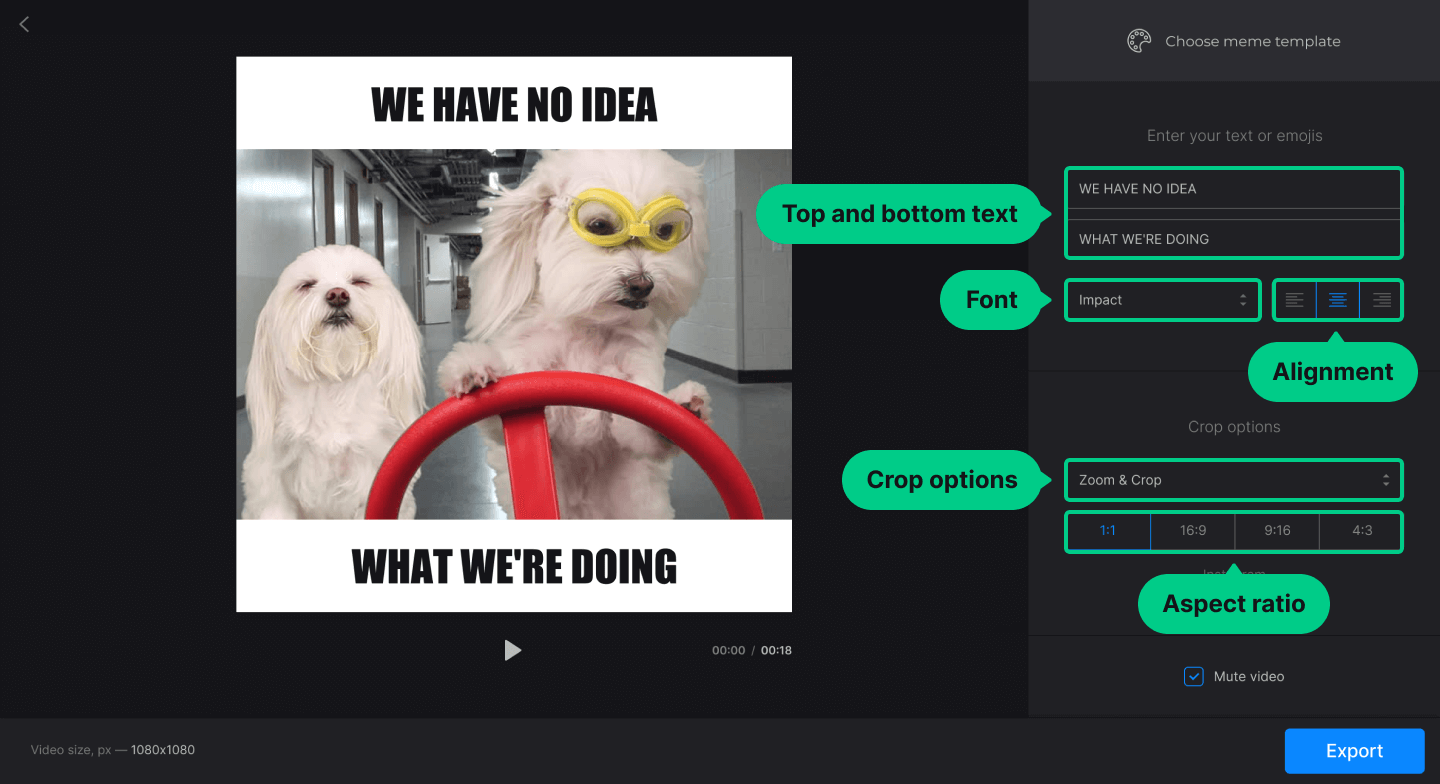 You can also change the template by clicking the Choose meme template button at the top right.
Export and save your meme
To save the file, click the Export button at the bottom right and wait for the process to complete.

Once you have exported the project, you can do one of the following:

To remove the watermark, click Remove watermark (you will proceed to the Pricing page to buy a Clideo Pro plan).
To save it to your device, click Download.
To save it to your Google Drive or Dropbox storage account, hover over or click the arrow to the right of the Download button.
To return to editing, click Edit.
To proceed with editing in another Clideo tool, under Continue in…, select one of the icons (a Clideo Pro plan is required).